Enterprise Resource Planning ou Planejamento de recursos empresariais (em português), é o significado exato do tema de hoje, o tão falado ERP.
Imagine that you need to manage a company, with this task some important demands arise, such as, how am I going to make payments, or know that we are paying for the right products? How many products do we need to buy for the next month to avoid running out of stock? What is the best way to make deliveries or schedule my internal logistics? What are the tasks that involve paying my employees? By the way, do my employees have all the resources to optimize time and perform the best work possible?
Anyway, the corporate world is made up of questions like this, and you need to make hundreds of decisions daily, but we are not always so aware of all these infinite variables. Now imagine managing so much information crossed in spreadsheets or without the possibility of analyzing everything carefully to reach the best conclusions. For this,ERP was developed in the 70s, and since then the software that plays this role has become essential in the daily lives of corporations and in the daily lives of users.
Today our focus is on the end user!
Normally, ERP's, as well as SAP S/4HANA (our ERP model from the skies), are divided into modules, as they are more adaptable to the needs of each sector or department. Thus, we have specific modules for the areas of finance, purchasing, inventory, sales, logistics and so on. Knowing this, where do employees come in? IN ALL OF THEM!
People are the key to a successful business, and knowing that, good management depends on your ability to make the work of your employees more fluid and efficient, offering the best resources and, above all, the best possible vision for them to perform. a work of excellence. It would not be possible to ask a painter to develop a beautiful work of art without good brushes. In the corporate environment it is exactly the same issue, obsolete ERP's affect the productivity of employees as they increase manual tasks, spending time that could be focused on strategic activities and aimed at the company's goals.
In addition, we have already said here that the lack of innovation can leave your company vulnerable, the security of your information can be at risk since employees make use of them daily, and they can use third-party and unauthorized applications to make their daily lives more easy - see more on the subject at this link.
And do you want to know the bomb of the day? A study conducted by the University of California made our conversation even more interesting. The research found that a happy worker is, on average, 31% more productive, three times more creative, and sells 37% more compared to others. In addition, he ends up motivated to better serve the customer, avoid accidents at work and reduce waste. And yes, the quality of the work tools available, such as efficient and modern ERP's, greatly affect the quality of life of your corporation's employees.
How does this work on S/4HANA?
There is a unique thought to optimize the visualization and usability of your employees, SAP Fiori offers an easier and more intuitive way to run SAP applications in your organization. Focusing on an intelligent, consistent and integrated user experience, SAP Fiori can help you redefine the way you work in the age of digital transformation.
And what exactly is SAP Fiori?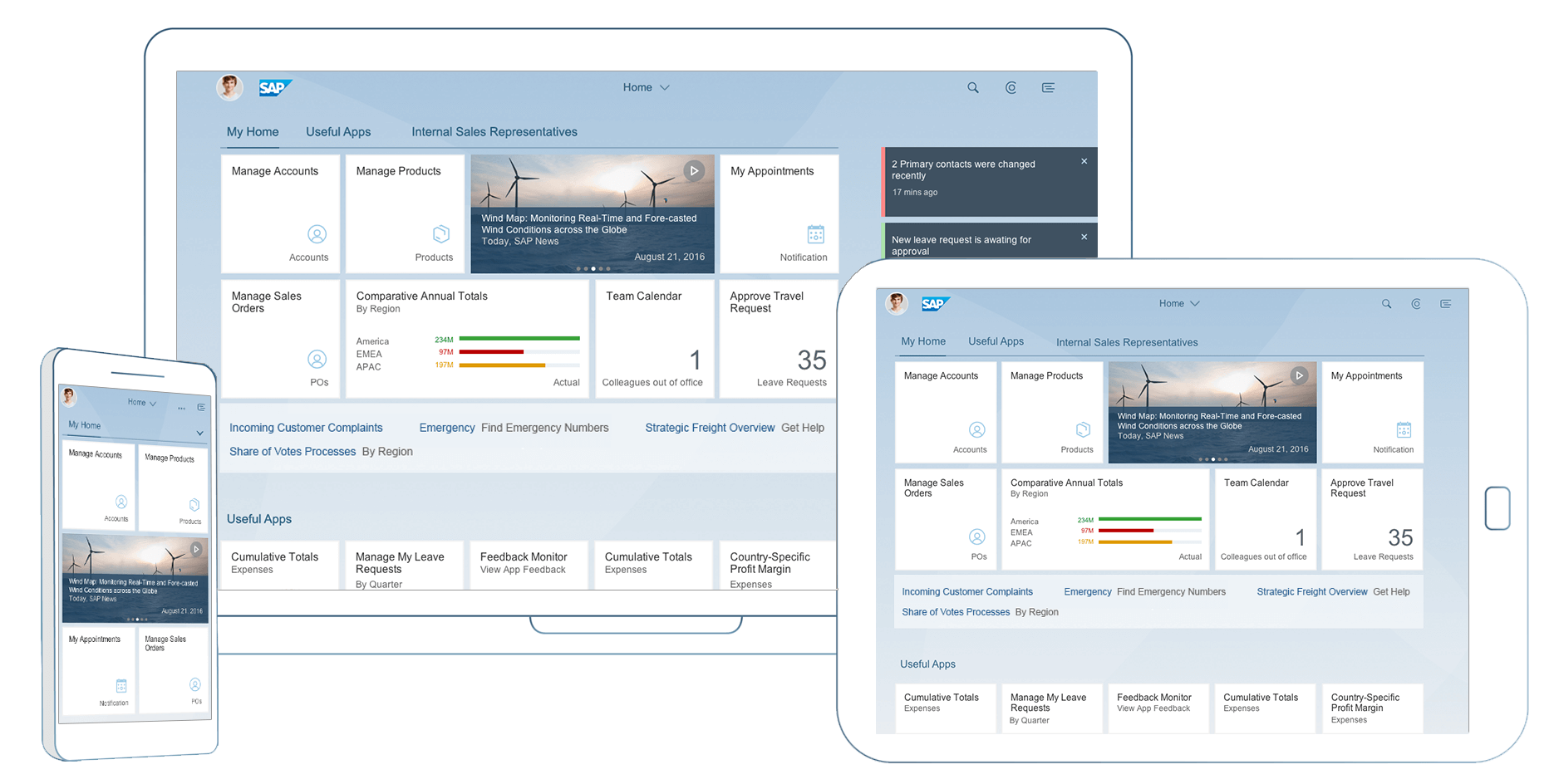 O SAP Fiori é um sistema de design que permite a criação apps de negócios com uma experiência de usuário facilitada, transformando usuários ocasionais em especialistas da SAP através de telas simples e podem ser executadas em qualquer dispositivo. Usando as diretrizes e ferramentas de design do SAP Fiori agora é possível criar e customizar seus próprios aplicativos, para que sejam adaptáveis e consistentes com o SAP S/4HANA. Sua principal característica é facilidade para o usuário final, rapidez na análise e gestão de informações e claro, agilidade para realização de processos por ser uma interface intuitiva e moderna.
Conheça o software que está revolucionando o mercado de atualizações para o SAP S/4HANA.
And to put the icing on the ice cream:
Os principais benefícios que as empresas conquistam com implantações bem-sucedidas de ERP, como o novo SAP Fiori, seguem na lista abaixo.
(Se você precisa de up em algum dos tópicos abaixo, seu ERP pode ter tudo a ver com isso)
Reduction in inventories 32%
Reduction in Personnel 27%
Increase in productivity 26%
Reduction in the cycle time of production orders 20%
Reduction in time and in the accounting/financial closing cycle 19%
Reduction in IT costs 14%
Improvement in the processes of supplies 12%
Improvements in cash management 11%
Increase in revenue: Profits 11%
Improvement in Transport: Logistics 9%
Improvements in maintenance processes 7%
On-Time Delivery 6%
Analisando os detalhes de sua operação você conseguirá atingir grandes resultados!
Veja também o case de conversão mais rápido para o S/4HANA desenvolvido e entregue para a Construtora RFM em apenas 18 dias!
Did you like this content?
Clique no botão e conheça agora a melhor solução para atualizar seu SAP.