The Carrefour case was highlighted in the press and we are here to celebrate another project for SAP S/4HANA carried out with total success and a lot of positive visibility!

Below, some articles that circulated the media and that cite MIGNOW as an innovative software that already allows the market to carry out conversions and updates to SAP S/4HANA with more agility and reduced costs, following this market giant: Carrefour
"The highly complex project was completed in a record time of just three months."
Infor Channel
Check out the full article here ⤵️

At the SAP Now Agency the focus was on project delivery speed 💜

"The implementation brought more confidence and greater support to Carrefour's volumes, as well as modernization of the back office environment. In addition, the system prepares Carrefour for future growth through the RISE with SAP offering", comments Paulo Henrique Farroco, CIO of Carrefour Brasil.
Check out the full article here ⤵️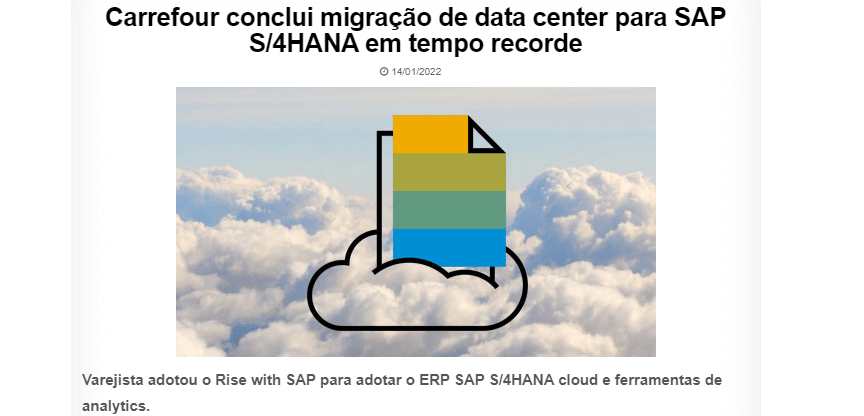 On the Convergência Digital portal, the highlight was the automatic conversion to S/4HANA for Carrefour with Mignow.
"With the new ERP, the retailer controls assets and office supplies, in addition to the number of sales made, now being able to cross-reference relevant information in the cloud. The initiative was supported by SAP Brasil and MIGNOW, a technology company specializing in SAP S/4HANA updates." 🚀
Check out the full article here ⤵️

We at MIGNOW continue to work #hard so that more and more organizations can take advantage of the resources and business opportunities that SAP S/4HANA offers!
#WEROCKAGAIN
To learn about other content like this Case Carrefour, access our case page through the link below: