You could be a few years behind your competition and not even know it.
If there was a reason for a business to be successful, it would probably be: Take advantage of the investments made (called ROI) and turn them into opportunities. Companies that don't have this mindset will hardly remain competitive, increasing the chances of a possible crisis. With that in mind, the purpose of SAP Enterprise Support is to protect existing investments, streamline operations and leverage the latest SAP innovations, acting as a business partner.
But do you understand what SAP Enterprise Support really is and what business opportunities are in your hands right now?
SAP Enterprise Support currently includes continuous improvement and innovation like:

New software releases of the licensed Enterprise Support Solutions, as well as tools and procedures for upgrades. 

Support packages - correction packages to reduce the effort of implementing single corrections. Support packages may also contain corrections to adapt existing functionality to changed legal and regulatory requirements.
For releases of the SAP Business Suite 7 core applications, SAP may provide enhanced functionality and/or innovation through enhancement packages or by other means as available. SAP´s current practice is to provide one enhancement package or other update per year.
Technology updates to support third-party operating systems and databases.
Available ABAP source code for SAP software applications and additionally released and supported function modules.
Software change management, such as changed configuration settings or Enterprise Support Solutions upgrades, is supported for example with content, tools and information material.
SAP provides Customer with up to five days remote support services per year from SAP solution architects:

→ To assist Customer in evaluating the innovation capabilities of the latest SAP enhancement package and how it may be deployed for Customer´s business process requirements.

→ To give Customer guidance in the form of knowledge transfer sessions, weighted one day, for defined SAP software/applications or Global Support Backbone components. Currently, content and session schedules are stated at the SAP Enterprise Support Academy. Scheduling, availability and delivery methodology is at SAP´s discretion.

SAP gives Customer access to guided self-services as part of SAP Solution Manager Enterprise Edition, helping Customers to optimize technical solution management of selected Enterprise Support Solutions.
Support is much more than a help desk. State of the art support is an enabler to help you meet your company goals.
SAP Enterprise Support: 1450+ services & tools available and coverage for any situation.
Find business and improvements through the SAP Enterprise Support opportunity report.
Tailored to your organization with industry benchmarks.
Get advice, optimize, and continuously improve through SAP Enterprise Support value maps.

→ Example: Reduce unused transactions through custom code management.
7,400 customer transactions and reports in your systems cause adjustment and test efforts for you every year.
SAP estimates that 74% of your custom code objects are unused. The benchmark in industry is 30% unused custom code.
1,625 hour's effort savings annually can be achieved by eliminating 3,250 objects to reach the industry benchmark.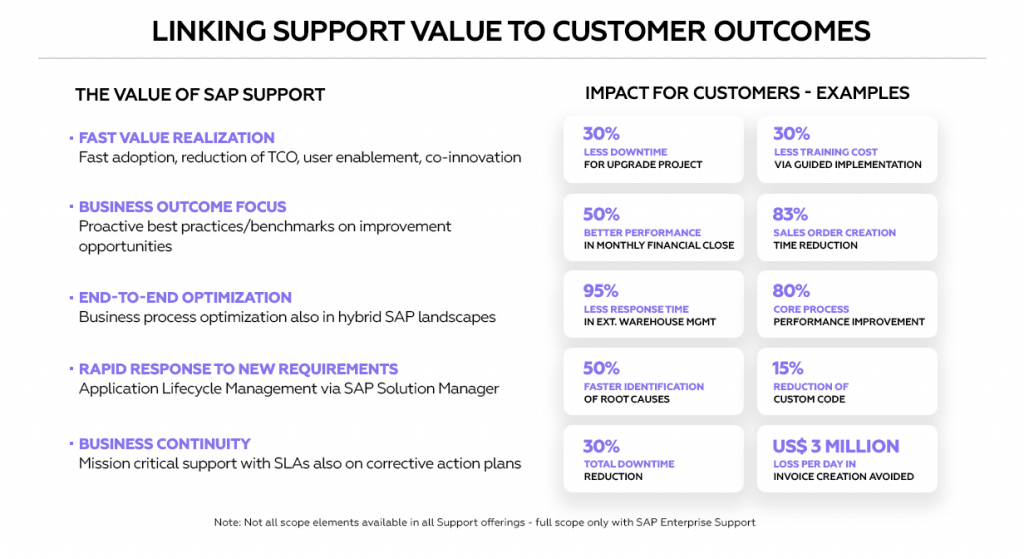 Now that we understand the importance of Enterprise Support and what are the opportunities that SAP offers through it, we need to explain that you may be using this tool completely wrong. Without the ability to constantly update, your business may be outdated, without taking advantage of the investment (nothing small) that's being made by your corporation.
Conheça o case de conversão para o S/4HANA mais rápido da história, construído e entregue junto à Incorporadora RFM. Ler sobre o case record de conversão feiro apenas 18 dias!
You could be years behind your competition and not even know it.
After all, how can you compete with whoever has the most updated version, with years of improvement ahead of you?
Bem, chegamos ao ponto crítico deste artigo e precisamos explicar por que você deve prestar mais atenção quando se trata de atualizar para o S/4HANA.
After all, what's going on?
First of all, SAP's Enterprise Support for ECC version will only last until 2025 (that's the first bad news) 🤯
We believe the global market capacity to complete projects that qualify as S/4 go live is no more than 2,500 per annum, but we have around 40,000 companies that need to migrate to S/4 if they don't want to be left behind (and this is the second bad news). The fact that SAP put out 173 go-lives in North America in 2019 tells you all you need to know in that regard.
Again, let's do a bit of math. It doesn't matter whether my estimates for sales momentum and total SAP ERP universe are incorrect, the capacity to get customers live is inadequate to meet any of the deadlines we see today. That's, unless the SI community can ramp bench strength with experienced consultants by a factor of x2, it is very difficult to see how this is achievable.
I'd go further. If you believe the universe of SAP customers is higher than current estimates and that SAP can get more customers over the buy line than I've suggested then the timeline problem gets worse rather than better.
The only way this really works is if SAP can get customers to move directly to a multi-tenant environment where implementations are simpler and faster than the usual 18 months type of project you'd expect to see.
Want to know how to skip this problem before everyone else? Click below: