The SAP Innovation Awards 2022 is an award from SAP that honors the achievements of forward-thinking companies and individuals who have harnessed the power of SAP's latest products and technologies to revolutionize industries, help the world run better, and improve people's lives.
The judges selected the 25 winners from hundreds of inspiring stories of innovation and major players in the market, from all these amazing participants MIGNOW WON THE CATEGORY "Digital Transformation on Rise with SAP'' através do case Carrefour.
Sorry world, now we have the Oscar of our market!
But what did we do so amazing to win this coveted award? Basically the complete digital transformation of the largest retailer in Brazil using Rise With SAP, which guaranteed as a consequence:
Reduction of system running costs by 30% (using SAP BTP).
Carrefour's energy consumption reduction by 45% through cloud hosting.
In addition to increasing end-user productivity by up to 64% with the new Fiori interfaces.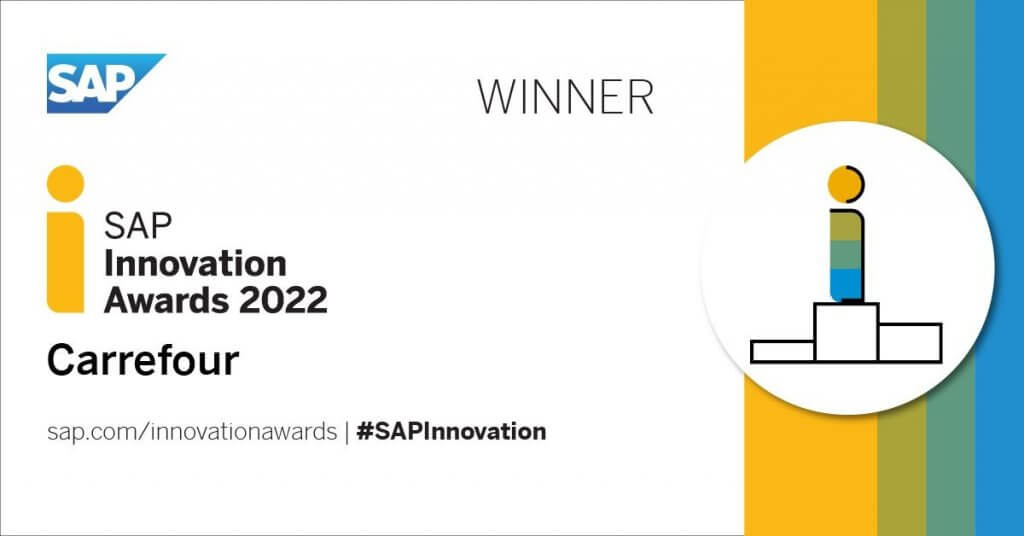 We could end this article here, just that was enough to put MIGNOW on the world's radar, but let's talk a little more about this #BIG project…

First, let's take a look at Carrefour's position in the market, which needs no introduction but deserves special mention.
Carrefour is a French group and a leading global retailer. With more than 321,000 employees worldwide, revenue of almost €80.7 billion in 2019, more than half of which were generated outside France, Carrefour today has 12,225 stores in more than 30 countries.

For 60 years, they have been pioneers in large food retail, following the mission of making their products accessible to everyone, and thus Carrefour reaches around 104 million homes a year around the world and receives 1.3 million unique visits, in all your shopping sites every day.
From SAP ECC to SAP S/4HANA on RISE
The biggest challenge:
Update the ERP and move the environment to the cloud in the short period of time proposed, in order to improve Carrefour's commercial operations. Timing was a decisive factor in this project!
For many companies in the retail sector, a project of this size is completed in approximately one year, due to the great complexity involved in performing the integration with other systems.
"The concern about the arrival of Black Friday made the migration even more challenging, as if there was any delay in the delivery of the project, the current data center would have to be shut down. In other words, the company would increase its costs for demand in November, when Black Friday takes place" comments Paulo Henrique Farroco, CIO of Carrefour Brasil.
The main objective of the project:
Migrate the current SAP environment that is hosted on IBM-CMS 'on-premise' to SAP Cloud Saas environment (RISE SAP S/4HANA) within 3.5 months.
Update the integration architecture using new Middleware in the new SAP environment. And update SAP S/4HANA 1511 Enterprise Resource Planning to version 2020, the most real version available from SAP.
The proposed solution:
Move SAP ECC to SAP S/4HANA on RISE and move some other products from on-premises to the cloud.
Result obtained:
The new ERP encompasses all of Carrefour's processes, from origination, risk management and logistics, through back office processes (financial, accounting and tax) to operational processes. In addition, the migration opens the possibility of forecasting for stores, on the quantity (increase or decrease) of purchase of products. With more robustness and faster analysis of sales orders through SAP S/4HANA, the retailer anticipates an increase in the company's profitability.
"Within 3.5 months we were able to successfully move our SAP ECC to SAP S/4HANA and start our improvements to our operations. With SAP S/4HANA we are able to deliver and improve many new features and new technologies to our business." Carrefour..
In addition, the benefits package can be scaled by segments, as shown below.
Business or Social:
Increase in sales and buyer engagement with personalized offers, after building a recommendation engine.
Reduction in energy consumption by 45%, migrating from local data centers for the cloud.
Reduced service disruption to buyers or employees with migration between on-premises applications.
IT
By migrating to Google Cloud, we were able to reduce operating costs by 30%.
Acceleration of launch processes, new technologies and processes.
Human Empowerment
Increased productivity – Fiori interfaces are easier to use than previous SAP UIs, allowing for more productive work. With simpler menus and tiles, as well as fewer clicks, Fiori can reduce time spent on tasks by up to 64%. Fiori pode gerar redução do tempo gasto em tarefas de até 64%.
More intuitive workflow – UIs designed by Fiori's feature business logic instead of SAP logic. This makes them more intuitive for the vast majority of information workers.
Improved mobility - With its mouse and keyboard structure, SAP GUI was not suitable for mobile form. The move to Fiori offers advantages to employees' cell phones. Fiori's simple interface allows users to work with touchscreens. Consistent UI design and behavior provide a similar experience regardless of device. Gaining substantial time in the activities developed.
This is how we conquered:
40% Reduction of operating costs.
5x More speed to deploy new functionality.
30% More agility to enable the end user.
"By moving to the cloud, we were able to reduce our operating costs by 30%, and that's just the beginning. As we continue to implement best practices and adapt our operations to the cloud, we will be able to further reduce our costs in the future." Carrefour..
Why MIGNOW?
Mignow was the organization chosen for the implementation of the project because it is the most innovative option on the market, where all the steps of the migration from SAP ECC to SAP S/4HANA are carried out automatically through software. Using artificial intelligence tools, it understands the database, diagnoses the project, automates conversion steps and performs automatic updates.
Carrefour, in partnership with SAP Brazil and MIGNOW, a technology company specializing in SAP S/4HANA Updates, completed the migration to a new data center and structural connectivity services. The highly complex project was completed in a record time of just three months. With the implementation, Carrefour gained new functionalities, agility and improvements in the execution of the company's processes.
JUST AWESOME! 🏆
Estamos gratos por todos que fizeram deste projeto um SUCESSO e que nos ajudaram a fazer a vitória do SAP Innovation Awards 2022 possível.
Below is the link to the winners of all categories on the SAP website: