Resource planning and intelligent information management are at the top when we talk about SAP modules. Find out here what are the main functions of each of them.
If you already know or have heard about SAP, you probably also know that SAP modules are the fundamental pieces that allow a company to manage databases of different processes and areas from a single unified system.
To understand what this means in practice, in a survey carried out by SAP itself, they identified that S/4HANA helped to achieve important numbers such as:

Numbers like these are important to illustrate how significant the post-implementation changes are, and for this reality to be possible modules play a fundamental role. With the help of SAP modules, the processes of an organizational structure will be unified and work effectively.
Meet The Biggest Benefits of SAP S/4HANA accessing this blog content.
According to research conducted by StrategicCFO360 and SAP, 71% of participating CFOs believe they are "ahead of the curve" in terms of openness to change with technology systems, while only 5% consider themselves to be laggards. But perhaps most surprising is its role in corporate technology decision-making over the past year, with 64% of its influence increasing.
À medida que os CFOs continuam direcionando investimentos digitais para toda a empresa e agregando valor por meio de sua própria transformação, algumas organizações financeiras estão evoluindo para centros de serviços empresariais completos
To make this reality of innovation possible, integrate the internal information of organizations, use a single source of truth, enable real-time processes, dynamic planning and instantaneous information, SAP has developed customized modules for the needs of each area.
Discover the main SAP modules available below: And now that we have already introduced the main SAP modules and their functions, discover closely which ones are most used and how they work individually. Knowing the purpose of each module is important so that you can plan and choose the ones that best suit your company's needs. When the time comes to customize your SAP, all needs must be known and for that it's important to understand each one of them. Check it out below: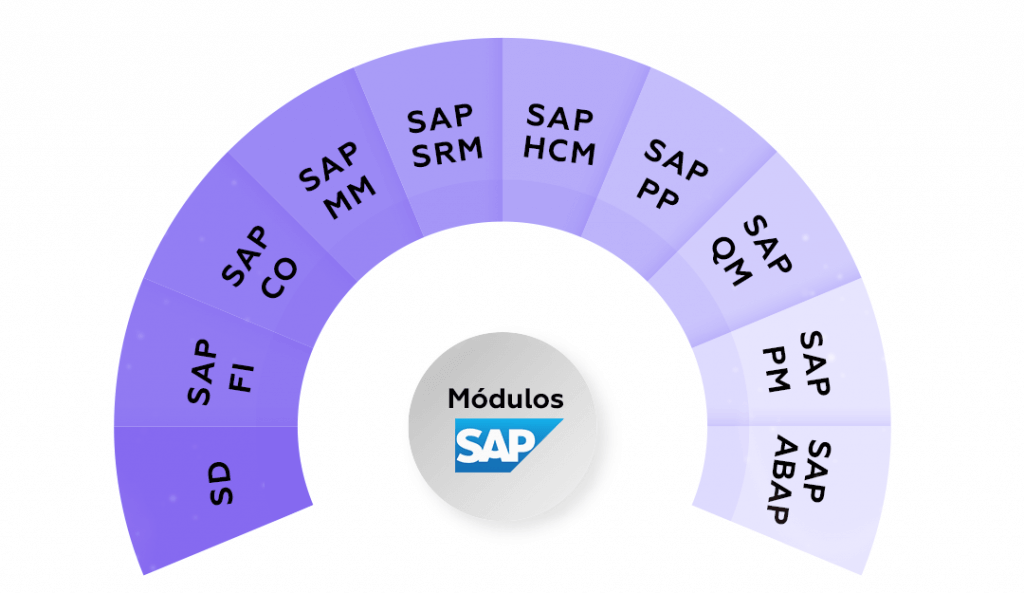 Sales and Distribution (SAP SD)
SAP SD is one of the most important modules of SAP– with a high degree of integration complexity. Organizations use SAP SD to support the sales and distribution activities of products and services, from the beginning of the order to the end of delivery.
SAP SD can monitor many activities that take place in the organization, such as product inquiry, quotation (pre-sales activities), order management, pricing, delivery planning (sales activities), picking, packing, goods issue, shipment of products for customers, product delivery and collection.
Various modules are involved in all these processes, such as FI (financial accounting), COM (controlling), MM (materials management), PP (production planning), LE ( logistics execution).
Financial Accounting (SAP FI)
O módulo de contabilidade financeira é responsável por rastrear o fluxo de dados financeiros em toda a organização de forma controlada e integrar todas as informações para tomar decisões estratégicas eficazes. Nesse sentido, o módulo SAP FI inclui várias atividades, como a criação de uma estrutura organizacional, configurações de contabilidade financeira global, contas a pagar e contas a receber.
Controlling (SAP CO)
The SAP CO module helps to coordinate, monitor and optimize all the organization's processes. To achieve its objective, the SAP CO module includes several functions: cost element accounting, cost center, activity-based accounting, product cost control, profitability analysis and profit and loss evaluation in various independent areas of the organization.
Materials Management (SAP MM)
The SAP MM module handles material movement in the organization, including logistics, supply chain management, sales and delivery, warehouse management, production and planning activities.
Supplier Relationship Management (SAP SRM)
The SRM module manages the supplier relationship. That is, it's the effective conversion of products and services between the organization and its suppliers. The main process covered in this section is the procurement of products such as direct materials, indirect materials, and services. This module can be effectively integrated into planning, accounting and inventory systems.
Human Capital Management (SAP HCM)
This module SAP also includes HCM-HCM, and contains activities related to human resources. In this module, employee-related data is entered for management, time recording and salary purposes.
The HR system has a very powerful integration point with almost all other SAP modules (data can be transferred without manual intervention). In addition, there is a very tight integration between the HR sub-modules.
Production Planning (SAP PP)
The SAP PP module is intended for production planning and management. It's used in conjunction with sales, so sales and operations planning, distribution resource planning, material requirements planning, product cost planning, etc.
Quality Management (SAP QM)
The SAP QM module helps to organize the quality management of products in the process. This is very useful for organizations to accelerate business development – ​​using a structured and functional approach to managing quality across different processes.
To achieve its objectives, the quality management module has been integrated with several other processes: procurement and sales, production, planning, inspection, notification, control, audit management, etc.
Plant Maintenance (SAP PM)
The SAP PM module manages all maintenance activities in the organization. In fact, we are talking about a number of key activities, including inspections, notifications, corrective and preventive maintenance, repairs and other measures to maintain the optimal technical system.
Advanced Business Application Programming (SAP ABAP)
Finally, we have ABAP, which refers to the term advanced business application programming, which can be understood as "advanced business application programming". It represents the most widely used development language in SAP.
Do you want to take advantage of all the possibilities that each of the modules can provide for your company? Upgrade to S/4HANA and discover endless ways to optimize your operations!

To ensure the most efficient, fast and innovative S/4HANA conversion project on the market (and we mean it!), it comes with MIGNOW, the only software on the market capable of automating the migration and keeping your SAP up to date.
Did you like it?
See more content about S/4HANA here, or contact our sales team for personalized service here.